News
From the highest toms down to the depths of your bass drum, Level 360 Technology has started a revolution. Over the last year, Level 360 has set a new standard for the tuning experience and tonal capabilities of tom and snare heads. Now, that same innovation is here for your bass drum. Logical, no-hassle tuning with deeper tones that shake the ground you play on. Focus on your bass drum technique, not teching your bass drum. More Evans News ….
_____________________________________________________________________________________________
With metal and nothing but metal in mind, we mod-ed and     tweaked until we forged the heaviest sounding metal axes ever built. For the ultimate in playability we took our legendary super-thin, ultra-playable Wizard RG neck, and upped the ante to Nitro Wizard – as fast and comfortable, but with added road-tested durability. Every Iron Label axe is matched perfectly with American-made EMG® or DiMarzio® pickups. Whether it's one of the original austere models or one of the new pumped up, decked-out spotlight-stealers, you'll find the Iron Label Series to be the perfect metal machine, ready to rattle bones and wake the dead. More Ibanez News …..
_____________________________________________________________________________________________
The Custom Pro series of snare wires are the ultimate in ease-of-use.
Available in 13″ and 14″ models, the Custom Pro Series wires are designed with Anti-Choke end plates that significantly reduce annoying snare buzz and also provide a wider range of available snare tension without choking the drum. The Speed Release straps allow the player to disengage the snare wires without releasing the straps for the strainer or butt clamps. The result is snare wire changes that can happen in seconds. The brass models provide a brighter, resonant sound, whereas the steel models provide a darker, crisp response. More Puresound news …..

______________________________________________________________________________________________
The "Cocktail-JAM" Kit™
is a TAMA original, in both appearance and sound. Ideal for hip-hop, jazz, intimate acoustic settings, or tight rehearsal rooms. Completely compact, this kit can easily be set up and played using a throne in much less space than a typical drum set. The "Cocktail-JAM" kit™ and its hardware can be completely packed easily in just two bags, which are included with the kit, making it super portable and easy to transport to any gig.
More Tama news …..

IBANEZ FACEBOOK
IBANEZ ARTISTS ON TOUR
02, SEP. 2017
Erik Söderlind

Stonetown/Tanzania, United Republic of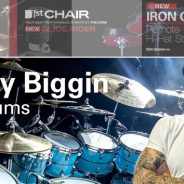 Pete's Drum Kit Information.
STAR Bubinga in Vintage Sea Blue (VSB) w/inlay (outside)
Biography
With his deeper-than-deep grooves, blistering solos, and out-there musical creativity, Pete Ray Biggin plays with such fiery passion that he quickly earned himself a reputation as one of the UK's hottest players. This led him to play with top artists such as Amy Winehouse, Mark Ronson, Incognito, Chaka Khan, Adele, Joss Stone, Jessie J, Robbie Williams, Whitney Houston, Lalah Hathaway, Brand New Heavies, Estelle, and Taio Cruz, and now in the seat of one of his major childhood inspirations, Level 42.
Pete is currently busy recording with and touring the world with Level 42 and remain active with his own group, the funky PBUG (PB Underground), for which Pete is the writer, producer, and musical director. He also played multiple instruments on the group's album Stand Up According to Pete, "Groove, Funk and Soul are my main vibe, but soul, hip-hop, Latin, jazz, rock… it's all good with me too."
And while he describes his drumming as "groovy, musical, fiery and energetic" there is an undeniably moving power to Pete's playing, as is evident when he sits behind the kit and just plays. This was clearly on display when Pete headlined the London Drum Show in 2015, and simply wowed the audience.
Pete says "When I play, I just want to see people moving, dancing… that's my job, to keep good time, to keep it groovy, to listen and give 100% heart."
In essence, that's what Pete Ray Biggin is all about. High energy, funk, soul drumming with a great sense of musicality and a real big groove.
For more info, please visit: http://www.peteraybiggin.com.
HAT STACK
CSH5
Description:The "Hat Stack" is the simplest and most compact cymbal stacker in TAMA history. It allows you to attach a small diameter cymbal to your hi-hat rod with just a drum key. Also, its tiny size – 25 mm (1″) diameter x 40 mm (1.5″) height – doesn't interfere with your setup and is super easy to carry. The Hat Stack is a great new item that can expand your sound without having to purchase additional clamps.
– Easily attach a small cymbal to hi-hat rod measuring up to 7mm in diameter
– Compact size and lightweight for easy transport and storage – 25mm (1″) diameter x 40mm (1.5″) height
– Ability to adjust cymbal sustain
*Make sure to position the black plastic nut on the top. If you put it on the bottom, the cymbal could fall.
IRON COBRA REMOTE HI-HAT STAND


HH905RH
As music has progressed, drummers have often gone from being just timekeepers to contributing more broadly to musical expression. This has led drummers to explore more flexible and creative setups enabling greater artistic freedom on the drum kit. One particular limited component of the drumset has been the traditional hi-hat stand. In response, we are proud to release a new Remote Hi-Hat which eliminates the physical limitations of the standard hi-hat stand and allows for ultra-flexible hi-hat positioning, for any setup.
Our goal with this new Remote Hi-Hat was to create the smoothest action and precision possible, to go toe-to-toe with high-end traditional hi-hat stands. Accomplishing this is difficult for a number of reasons, including that for most drum setups, the cable needs to bend. After much research and development, we were able to achieve our ambitions by partnering with JAGWIRE™, a company that develops brake cables for the world's best mountain bikes.
The new Remote Hi-Hat offers virtually unlimited setup flexibility for hi-hat positioning, with hardly any sacrifice in feel or response. We hope this freedom in positioning will allow drummers to continue exploring new sonic ground and further push the boundaries of music.
Details:
•JAGWIRE™ Triple-Layered Ultra-Smooth Cable
•Cable Length : 2,300mm (Shorter 1,200mm cable is available separately)
•Lever Glide
•Quick-Set Hi-Hat Clutch
•MC66 Universal Clamp
•Ratchet Arm (Φ12mm, Arm Length: 200mm)
•Dual Leg
•6-way Tension Adjustment
•Cable Holders (x 6)
•Carrying Bag
•Weight: 8.1kg (17lbs)
ERA 1
CLOSER TO THE ACOUSTIC INSTRUMENT THAN EVER BEFORE
Welcome to a new era of acoustic amplification. Developed with renowned designer Michael Eisenmann, era 1 gives you richly detailed definition for peerless authenticity and tonal brilliance, plus a bunch of remarkably innovative and intuitive features to make every performance better. On top of all this, era 1 is built in Germany to the highest quality standards.
HIGHLIGHTS
High-definition audio

Painstakingly selected, top-drawer components
Excellent preamps
Premium-quality AD/DA converters
Custom-made power amp with massive headroom

Richly detailed definition, wonderfully dynamic response, plenty of headroom—it all adds up to a natural-sounding audio experience unrivaled in authenticity.
Intuitive handling with zero compromises

Two fully featured, identical channels
Independent FX engine for each channel with 16 programs
Very effective Preshape and Mode buttons to voice channels to suit different instruments and vocal registers
As compact and light as conventional 60-watt combos
Superior quality

Developed by renowned acoustic amp designer Michael Eisenmann in a joint effort with the Hughes & Kettner team
Choice materials, handpicked for durability and ruggedness
Made in Germany to the most discriminating standards for quality
TECHNICAL DATA
"DT" stands for delay time, or the time between echoes / repeats.
"HF damping"" attenuates the high-frequency (HF) components in the reverb signal to take the harsh edge off and achieve a warmer, fatter tone"
Thermo Aged™
Only choice selected and seasoned tone wood can be cured to Thermo Aged™ wood. The wood is heated in a vacuum with a specific treatment for each kind of the wood in order to release water and decompose resin contained within the wood. As a result, Thermo Aged™ tone wood becomes light, hard and stable like tone wood dried for decades, while providing amazing response and a louder sound. The tone character includes a full-bodied low-end and a great smooth sustain in the treble strings which are common features of vintage guitars. Plus, the Thermo Aged™ process turns spruce tops amber, adding another vintage characteristic.
*A simplified graph based on the analysis of the sound source recorded under a specific condition and a playing style
Simplified Graph Comparing Thermo Aged™ to Non-Thermo Aged Guitars
The Thermo Aged™ process makes the sound louder across the entire frequency range, especially the bass and treble areas. (The base line in the graph represents the sound character of Non-Thermo Aged guitar). Having a Thermo Aged™ solid back brings further enhancement to the sound along with the Thermo Aged™ solid top; even more bass, even more treble, and plenty of punch.



Thermo Aged™ Solid Top and Spruce X Bracing

Thermo Aged™ Solid top w/Thermo Aged™ Spruce X bracing delivers ample volume and an enormous frequency range.




Thermo Aged™ Solid Mahogany Back and Spruce Back Bracing (AVD10, AVM10, AVN10)

Thermo Aged™ solid Mahogany back and Thermo Aged™ Spruce back bracing offers a wide open resonant sound with vivid tone projection.




Bone nut and saddle

A bone nut and saddle provide optimal transference of the natural string vibration.




Grover® Chrome Open Gear tuners w/Butterbean knobs (AVD10, AVM10, AVN10)

Grover® open gear tuners w/butterbean knobs(18:1 gear ratio) ensure accurate, stable tuning and help reduce the headstock weight, while contributing to the vintage look.




Deluxe Design Mother Of Pearl Fretboard Inlay(AVD10, AVM10, AVN10)

Ibanez's original Mother of Pearl fretboard inlay adds to the timeless look Artwood Vintage guitars.




D'Addario® NB1253 Nickel Bronze strings

D'Addario® Nickel Bronze strings emphasize the natural voice of Thermo Aged™ wood with incredible clarity, resonance and projection.

PASSION FOR DETAILS
Over the last 25 years we have created a specific portfolio to match the variety of our customers. Today we are proud to offer a wide assortment of high quality percussion instruments for players all around the world regardless of age, playing skills, or economic background. A large variety of colors, a well thought out assortment and trend setting ideas is what MEINL percussion stands for.
As a modern and progressive company, MEINL has never been content with the status quo! By talking and listening to the people who play, we have developed many new and improved percussion instruments. Original MEINL innovations like the Free Ride System for Bongos (patented), the Floatune® Tuning System for Timbales and Djembes (patented), the revolutionary STEELY II Conga and Djembe Stands (patented), or the Professional Conga and Bongo Stands (patented) prove our leading position in Research and Development work and set the standard in the percussion world.
Since our formation, our main objective has been to offer percussion instruments which comply with the highest quality levels regarding manufacturing and materials used. Only by committing to the highest standards, we can guarantee top quality instruments, the maximum of playing comfort, the best possible sounds, and therefore long lasting customer fulfillment.
Our perception of what it means to be a global player tells us not to measure success in sales only; it is also the way how we achieve it! As a family owned and managed company, we conduct business with integrity, respecting our employees, customers, artists, and the environment around us. Therefore we strictly observe the CITES-regulations set forth in the "Convention on International Trade in Endangered Species of Wild Fauna and Flora" and only use wood from environmentally controlled forests or industrial wood plantations.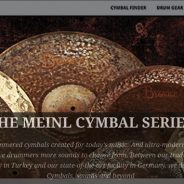 Hand hammered cymbals created for today's music. And ultra-modern designs that give drummers more sounds to choose from. Between our traditional foundry in Turkey and our state-of-the-art facility in Germany, we do it all. Cymbals, sounds and beyond.
Darker sounds blend with the music, brighter ones cut through. Many players mix them together. The Bronzes Only MEINL offers four bronzes. High numbers deliver more tone; lower ones sound brighter and tonally tighter.
BeatBuddy Mini
Bring the drummer right into your home with the BeatBuddy Mini — effortlessly insert fills, transition from verse to chorus, add accent hits, throw in drum breaks, and more, to create an unprecedented live drummer effect — all with the simple ease of a guitar pedal format.
No programming is necessary. Just cue your drummer and START jamming.
Beatbuddy offers you complete creative control. It's the first drum machine with the simplicity of a pedal. A live beat, hands-free.
Use Right Out Of The Box: No Programming Necessary! Includes 200 songs (that you control!) in a 21 genres and 10 different drum kits those songs can be played on. You'll be sure to find your beat.
Available now! Please contact your local dealer.
Click here for more information!