News
From the highest toms down to the depths of your bass drum, Level 360 Technology has started a revolution. Over the last year, Level 360 has set a new standard for the tuning experience and tonal capabilities of tom and snare heads. Now, that same innovation is here for your bass drum. Logical, no-hassle tuning with deeper tones that shake the ground you play on. Focus on your bass drum technique, not teching your bass drum. More Evans News ….
_____________________________________________________________________________________________
With metal and nothing but metal in mind, we mod-ed and     tweaked until we forged the heaviest sounding metal axes ever built. For the ultimate in playability we took our legendary super-thin, ultra-playable Wizard RG neck, and upped the ante to Nitro Wizard – as fast and comfortable, but with added road-tested durability. Every Iron Label axe is matched perfectly with American-made EMG® or DiMarzio® pickups. Whether it's one of the original austere models or one of the new pumped up, decked-out spotlight-stealers, you'll find the Iron Label Series to be the perfect metal machine, ready to rattle bones and wake the dead. More Ibanez News …..
_____________________________________________________________________________________________
The Custom Pro series of snare wires are the ultimate in ease-of-use.
Available in 13″ and 14″ models, the Custom Pro Series wires are designed with Anti-Choke end plates that significantly reduce annoying snare buzz and also provide a wider range of available snare tension without choking the drum. The Speed Release straps allow the player to disengage the snare wires without releasing the straps for the strainer or butt clamps. The result is snare wire changes that can happen in seconds. The brass models provide a brighter, resonant sound, whereas the steel models provide a darker, crisp response. More Puresound news …..

______________________________________________________________________________________________
The "Cocktail-JAM" Kit™
is a TAMA original, in both appearance and sound. Ideal for hip-hop, jazz, intimate acoustic settings, or tight rehearsal rooms. Completely compact, this kit can easily be set up and played using a throne in much less space than a typical drum set. The "Cocktail-JAM" kit™ and its hardware can be completely packed easily in just two bags, which are included with the kit, making it super portable and easy to transport to any gig.
More Tama news …..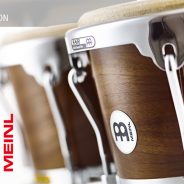 PASSION FOR DETAILS
Over the last 25 years we have created a specific portfolio to match the variety of our customers. Today we are proud to offer a wide assortment of high quality percussion instruments for players all around the world regardless of age, playing skills, or economic background. A large variety of colors, a well thought out assortment and trend setting ideas is what MEINL percussion stands for.
As a modern and progressive company, MEINL has never been content with the status quo! By talking and listening to the people who play, we have developed many new and improved percussion instruments. Original MEINL innovations like the Free Ride System for Bongos (patented), the Floatune® Tuning System for Timbales and Djembes (patented), the revolutionary STEELY II Conga and Djembe Stands (patented), or the Professional Conga and Bongo Stands (patented) prove our leading position in Research and Development work and set the standard in the percussion world.
Since our formation, our main objective has been to offer percussion instruments which comply with the highest quality levels regarding manufacturing and materials used. Only by committing to the highest standards, we can guarantee top quality instruments, the maximum of playing comfort, the best possible sounds, and therefore long lasting customer fulfillment.
Our perception of what it means to be a global player tells us not to measure success in sales only; it is also the way how we achieve it! As a family owned and managed company, we conduct business with integrity, respecting our employees, customers, artists, and the environment around us. Therefore we strictly observe the CITES-regulations set forth in the "Convention on International Trade in Endangered Species of Wild Fauna and Flora" and only use wood from environmentally controlled forests or industrial wood plantations.